Our Expertise
Standards
The World Wide Web Consortium has published many standards that are making speech and language technologies interoperable and easy to use. We are highly experienced with these standards as well as current W3C efforts in the Web of Things and Cognitive Accessibility.
Software for Language Disorders
Conversational Technologies has a long history of work on applications using speech and language technologies for remediative and assistive systems for language disorders, especially aphasia. This work is described in a recent book Speech and Language Technology for Language Disorders, co-authored by Deborah Dahl.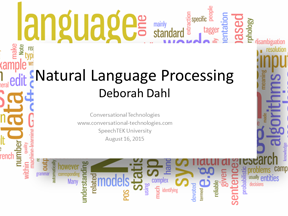 Training
We present workshops on topics including Natural Language Processing, Multimodal Design and The Open Web Platform. SpeechTEK University 2016 included two of our workshops, "Natural Language Understanding" and "Developing Multimodal Applications for New Platforms". "Natural Language Understanding" covered natural language understanding in call centers and virtual assistants. "Developing Multimodal Applications for New Platforms" covered natural language for the Internet of Things, including an example of spoken language interaction with a fitness tracker.
Natural Language Processing Systems
We are knowledgeable about commercial and research natural language processing tools, such as wit.ai and OpenNLP, as well as the academic literature. Here's a five minute overview of natural language processing, which is part of the AVIOS (Applied Voice Input Output Society) video series, "A Closer Look at the World of Speech Technology".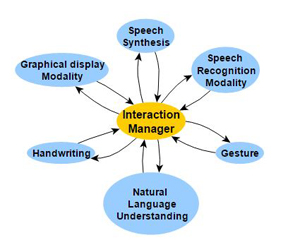 Demos
Some introductory information about the W3C multimodal standards (EMMA, EmotionML and the Multimodal Architecture, and some demos of the standards in action. Here's a video of another demo -- natural language control of Hue lights with W3C standards.

Industry Analysis
Some recent examples: